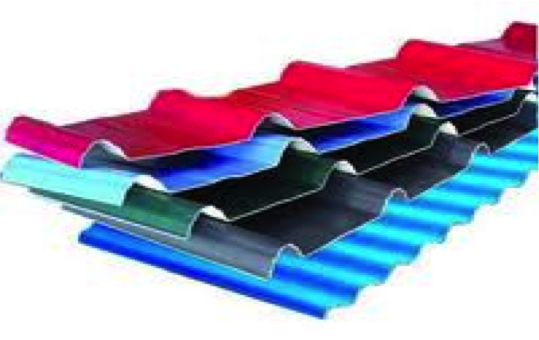 OUTDOOR Weather resistance
Excellent weather resistance and gloss retention with exceptional exterior durability. Not only aesthetic but also maintains the mechanical properties under conditions of prolonged exposure to sunlight, moisture and heat.
MISCIBILITY
It can be incorporated in alloys, compounds and mixtures to benefit from the properties of the component resins, for example, Geloy resins mixed with polyvinyl chloride (PVC) for extruded walls, or with polycarbonate resins (PC) for oven applications
GOOD RTD
Provides a relative temperature index (RTI) of up to 125 & 176 º F (50 & 176 ° C) and a heat distortion temperature (HDT) of up to 220 & 176 º F (104 and 176 ° C)
TOTAL THERMAL TRANSMISSION COEFFICIENT "U"
The unit of heat flow to complete construction, where the air particles are included all materials and assembly. Is calculated by taking the reciprocal of the sum total of all resistors "R" assembly elements.
R FACTOR (THERMAL RESISTANCE)
The "R" factor The "Ri" and "Re" factor are added up to what the total resistance and "Rt" thus one can calculate the required insulation thickness. To calculate the thickness of isolation required a data "U" is needed. For the "R" factor, which is the inverse of "C" of a material is calculated by dividing 1 / "C" = R = 1 / C

COLOR STABILITY
Modern technology and innovation in the plastics and resins industry gave rise to the ASA / PVC chemical elements combining to transfer all properties to its layers to endow any property maintenance without allowing to color these quickly change their source color avoiding crystallization when exposed elements such as UV rays, moisture, heat, cold for a long period, the hardness of its surface layer also prevents friction Wind not deteriorate avoiding lost color in a given period.
This technology ASA / PVC is the latest rage in the ceilings smart technology.
CORROSION RESISTANCE
With a strong reistencia to a variety of acids, bases and salts in lamins ASA / PVC are recommended for coastal areas wherein the abrasive effect of the salt crystals produced by the sea or deteriorate any surface areas that have a high frequency of acid rain.
COMPARISON OF THERMOACOUSTIC SHEET VRS. OTHER ROOF SYSTEM
Thermoacoustic Drywall
Stability in Corrosive Environments
Very Stable
Non Stable
Non Stable
No estable
Flexion Resistance
Capacity
up to 25 Cm
15 Pa
16 Mpa
10 Pa
Combustibility
0 flammable slows the spread of fire effectively
Nonflammable
Nonflammable, presents micro explosions as is exposed to fire
Nonflammable
Thermal Conductivity
0.08 W/m.C
15 W/m.C
0.46 W/m.C
0.27 W/m.C
100 sq. Mts Weight
330 Kg = 3mm
280 Kg = 2.5mm
420 Kg
1340 Kg
5500 Kg
Acoustic
Isolation
Reduces noise from rain, hail and street noise decibels low -20 dB
Does not allow the absorption of noise from rain, hail or street noises
Provides a negligible absorption of noise from rain, hail or street
Provides a significant absorption of noise from rain, hail or street
Environment
Respect
Ecologically clean, fully recyclable
Ecologically clean
Presence of carcinogenic asbestos
Ecologically clean